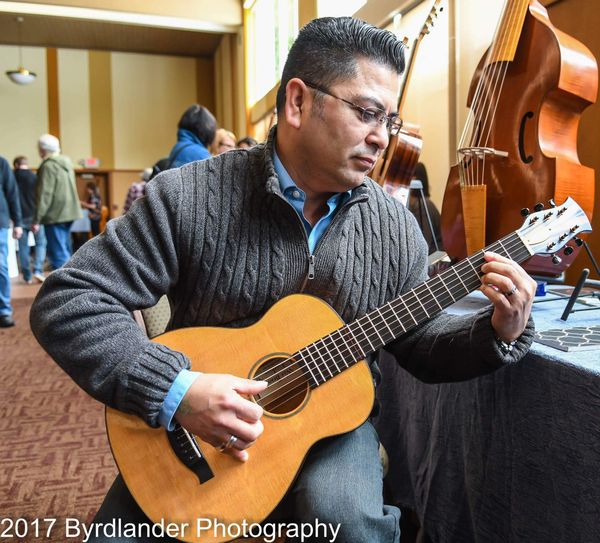 What could be more beautiful than Marylhurst University in the springtime? Answer : Marylhurst in the springtime during the Handmade Musical Instrument Exhibit. 
  Saturday afternoon I decided to hang out at Five Star Guitars while my wife got her hair did. I instantly made a new friend with a refined taste in guitars (He was playing a '62 Martin Nylon when I approached him) We were invited into an iso booth where we jammed and talked shop. It was just like music stores used to be back in days! We share many common interests among them handmade & vintage  guitars. He then invited me to this weekend's event. Plus, he asked so nicely, how could I refuse?
  I arrived to plenty of parking. I was then met with a friendly smile and a $3 dollar entrance fee! The room was buzzing with childlike enthusiasm with plenty of oohs and aahs as we all mutually suffered of Guitar Acquisition Syndrome or G.A.S. 
  I found my new buddy James and met his lovely wife Terri just in time to catch up and go over the performance itinerary: 
1:00-a breath taking and dynamically rich performance by Doug Smith on my new local favorite steel string guitars by Rebecca Urlacher 
1:15-a beautiful granados followed by a quick yet deep study of Chopin followed by a piece by Schuman played  by James Bishop-Edwards on classical guitar by James White 

1:30-Fellow Beaverton resident Travis Stine received a standing ovation after an exuberant set on tenor ukulele by Patrick Megowan. Keep an eye out for this 27yr old rising star! 
  If your heart flutters at the smell of cedar and swells at the sight of cocobolo, perhaps this is your kind of venue. Oh, so many instruments, SO little time!Fortunately we do have some fine pictures to share courtesy of James Erickson. Hope to see you all there next year!